Home - Images - Technical - Press - Exhibits - Artists - Contact

UW engineering prof uses art to bring Power to the People
UW Gazette September 18, 2003

By Barbara Elve

Taking centre stage at Kitchener's Contemporary Art Forum next week will be an installation by UW electrical and computer engineering professor Rob Gorbet.

Working in the Gorbet Artists Collective with Matt Gorbet and Susan Gorbet, his brother and sister-in-law, Rob is stepping out of the classroom and into the public arena, using art to stimulate a dialogue about technology.

In its design proposal, the collective describes its installation -- on display at Kitchener City Hall from September 21 to 29 -- as "a panel of familiar household light switches (occupying) a platform on the west side of the fountain in front of Kitchener City Hall. A 35-foot long, 125 bulb marquee of light bulbs transforms the fašade of the building. Passers-by can flip a few switches and instantly see that each switch controls a corresponding light. They are in control of the display and can create any patterns they choose in the hanging web of lights."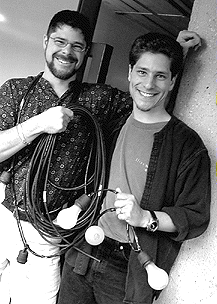 The installation, entitled P2P, reflects the theme of this year's art forum, "Power to the People," which marks the 100th anniversary of the plan for public ownership of what became Ontario Hydro, conceived in Berlin/Kitchener in 1902.
As well, "the work's title, P2P, addresses the much-publicized recent development of peer-to-peer (P-2-P) technologies, which enable members of a community to communicate and share information without the mediation of any centralized authority.
"The installation itself is also the most basic hardwired instantiation of a point-to-point network, where communication follows a direct link from one node to another."
This isn't the first time the Gorbet brothers have created a synthesis of art and technology. In 1999 they worked with a colleague at Stanford University to design a kinetic sculpture they hope someday will be installed on Mars. The Shape Memory Alloy (SMA) sculpture is slotted for a NASA payload in 2007.
"I've always had a creative streak," says Rob, who earned his PhD in electrical engineering at UW. Matt did an undergraduate degree in architecture at the Massachusetts Institute of Technology, following with a master's at the MIT Media Lab, where he worked "on the razor's edge between art and technology."
Susan, who has degrees in psychology and computer science, runs Gorbet Design Inc. in Toronto with Matt. The couple are both on the faculty of the Canadian Film Centre in the Interactive Art and Entertainment Program. Matt specializes in electronic art installations, and Susan in usability and interaction design.
Collectively, they hold several patents and have research affiliations with UW, MIT, Stanford, Interval Research, Xerox PARC and Silicon Graphics.
"Interaction is a big part of our interest," says Rob about the group, which describes itself as "an experience design collective dedicated to enriching the lives of citizens through the creative application of technology as social grease in public spaces."
"The artist plays an important role in highlighting issues society will be facing," says Matt, in town to complete the work on P2P in Rob's garage last week.
"It's about getting the audience to ask questions about the role of technology" -- with the P2P installation, about such issues as freedom of speech and how technology is used to communicate, he says.
In their design proposal, the collective describes the marquee as "a now ubiquitous feature of our communities and an iconic tool of corporate communication." P2P subverts that function by allowing "citizens to communicate directly, without the oversight of a centralized authority. . . . P2P is a medium for public expression and connection, literally and figuratively bringing Power to the People." Individuals can install a word or short phrase, or even collaborate to make designs or play games on the marquee. "It's meant to spur discussion among people," add Rob.
Rob finds by combining his current research with art, he can reach a different audience from those who read journals. "It's becoming more acceptable for researchers to participate in such collaborations. Technologists can learn a lot from artists."
"And artists may push technology in new directions that researchers never thought of," continues Matt, pointing to Leonardo de Vinci as the embodiment of an artist using technology as a medium.
"One of my greatest pleasures is working with artists as a technical advisor," says Rob, who is exploring with the fine arts department the possibility of cooperative ventures between art and engineering.
"Collaboration is critical because the body of knowledge is so vast."
An added benefit, says Matt, is the potential for "our growth as individuals when we are exposed to other ideas."
While the P2P concept may appear straightforward, the collective found they faced a number of design challenges. To ensure safety of the audience in inclement weather, an Ethernet cable rather than a high-voltage line was used to run from the switches under the fountain to the marquee. The marquee's 50-watt lights are silicone-coated, rough-service bulbs that are water- and shatter-resistant.
Working through the project has been "interesting from a pedagogical point of view, as well," says Rob, giving him a better understanding of what his students are facing -- budgeting, testing, debugging -- when they work in teams on their fourth-year design project. "The understanding of where theory meets practice is important."
And there are always surprises. It wasn't until the collective had submitted the design proposal for the P2P installation that they learned the marquee idea had been used before. "For the People" was the message that lit up on a marquee announcing the arrival of electricity in Kitchener in 1910.
P2P will be among 20 works from Canada, the United Kingdom, the United States and Mexico appearing in the Contemporary Art Forum. An opening reception will be held on Saturday, September 21, at 7 p.m. in the Kitchener City Hall rotunda.
Home - Images - Technical - Press - Exhibits - Artists - Contact